Whether this is your first time traveling to Romania or you are a seasoned traveler, it is important to keep in mind the good spots to stay so that you can return home safe and happy! Bucharest is a hot travel spot in Romania, and definitely the most touristy city in the country. No matter if you are staying in Bucharest for a long period of time, or just a few days, check out the recommendations here to figure out the perfect place to stay!
Short-term vacation
Do you have a long layover in Bucharest, or maybe 24 hours to spare in the city? If you are only going to be in the city for about a day and are traveling in and out of the Bucharest Airport (the Henri Coanda Airport, OTP), it would probably be a good idea to stay somewhere close to the airport.
This way, as soon as you get off the plane, you can drop of your stuff in your room and enjoy the day in the city. This would be especially good if you have an early morning flight to catch.
So what are the best hotels near the airport? Luckily, Bucharest hotels are relatively cheap compared to prices in most western countries. Not only that, but service tends to be really great because these hotels are marketed towards foreigners traveling in and out of the airport.
Hotel Otopeni
This is a basic hotel that doesn't have fancy frills, but provides all the basics. It is safe, clean, and the staff is friendly and can speak English. The place provides free airport transfers. The hotel has breakfast, and you can request an early breakfast if you have a flight early in the morning.
Depending on the date, you can get a room here for as low as $40/night. It is also very close to the Water Park Otopeni, which is one of the nicest water parks in all of Romania!
Vienna House Easy Airport Bucharest
This is the closest hotel to the airport so, location-wise, you can't get better than this. Price-wise, this is a slightly more expensive option, with rooms running about $70/night. However, this hotel has a lot to offer. There's a restaurant, a sauna and fitness center, laundry and dry cleaning, air conditioning, free wifi, and lots more! Although this is the closest hotel to the airport, they still provide free airport transportation.
Long-term stay
If you are staying in Bucharest for more than just a couple nights, then it will probably be worth it to stay closer to the city center. The airport is about 20km from the city center and, depending on traffic, it could take you anywhere from 30 minutes to one hour to drive to the center. Because this is a rather long commute, staying in the city center would likely be worth it for you.
Another thing to take into consideration when trying to choose where you will stay during your vacation in Bucharest are the sites you want to see. Make a list of all the monuments, landmarks, historical sites and restaurants that you want to visit while you are in Bucharest. Perhaps map things out to see where you will likely be spending most of your time. After that, you can choose a spot that will work best for you.
That being said, right in the middle of the city is a great place to stay if you want to be in the center of the action. However, if you don't want to stay right in the center, there are many other options in Bucharest. With over 2 million people in the capital area, there are various neighborhoods to choose from.
Piata Unirii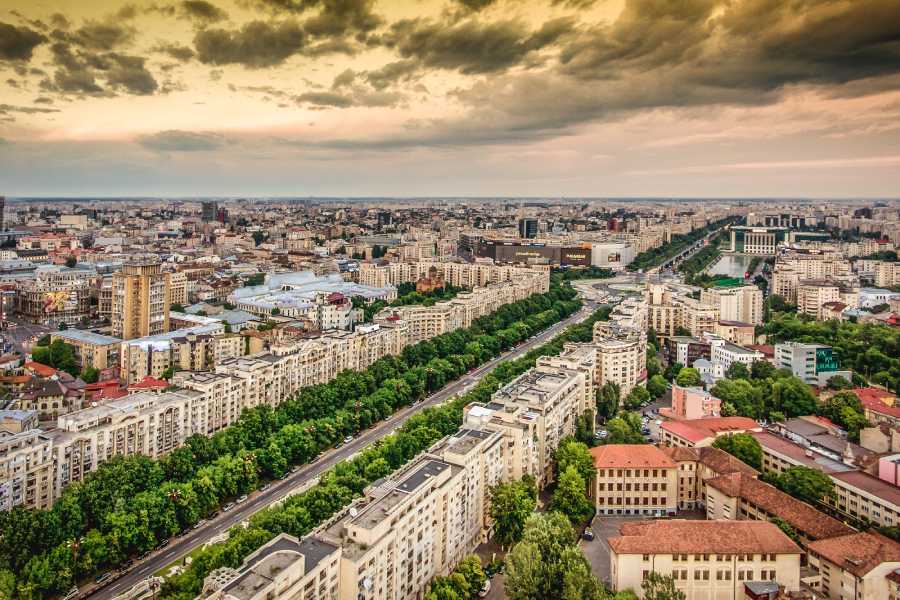 This first spot is a neighborhood in the center of the city. If you have never been to Bucharest before, this is a great pick. You will be walking distance from some great sites and attractions. This neighborhood also has the Parliament building and other communist-era buildings, so you be surrounded by a lot of history and cool architecture.
Universitate
As you might expect, this is where the University of Bucharest is located. There are a lot of pros to being near the University, such as coffee shops and local restaurants. If you want to be with a younger crowd, this spot is for you.
Calea Victoriei
If you want a slightly more luxurious experience in Bucharest, or if you are just looking to treat yourself, then Calea Victoriei is for you. This is wealthy neighborhood of Bucharest and you will be close to the higher-end restaurants and shops. Staying here, you will also be close to many museums.
Primaverii
This is another neighborhood for the wealthy in Bucharest. It is near the Herastrau park and there actually aren't too many hotels in that area. One of the best hotels in this neighborhood is Hotel Helvetia. Otherwise, you could do some searching on Airbnb if you are interested in staying in this area.
Old Town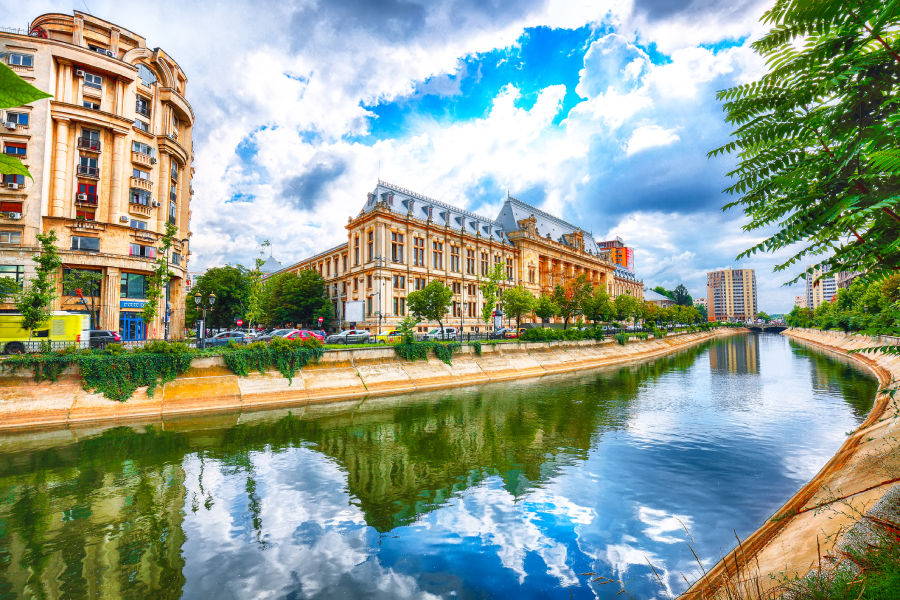 If you are more interested in the hipster experience, Old Town is the place for you. Really, Old Town is just around the corner from Piata Unirii, so you will still be walking distance from a lot of sites. The difference is that in Old Town you will also be close to a lot of hipster cafes, bookstores, restaurants and more. You will still be near a lot of the older architecture that surrounds Piata Unirii.
Tineretului
This is a small but growing neighborhood. There are some restaurants and stores, but not nearly as much as in the city center. What is good about this location though is that this is a quieter neighborhood and it is close to public transportation. It is also right next to Tineretului Park, which is a beautiful spot to walk through in Bucharest.
Bucharest is Romania's capital, and there are so many more neighborhoods to explore or stay in during your next trip. The above options are a great starting point and surely will not disappoint!