There are a lot of misconceptions floating around about Transylvania. One misconception is that Transylvania is its own country (it's not) and another is that Transylvania is the made-up home of Count Dracula (also false – Transylvania is a real place). Transylvania is an historical region located in central Romania. Located within this region are several major cities, such as Cluj-Napoca, Brasov, Sibiu, Targu Mures, Alba Iulia and Bistrita. Even though people have many misconception about Transylvania due to Bram Stoker's novel, Dracula, this novel also allowed the region of Transylvania to become a household name in much of the English-speaking world. And, if you are a Dracula fan, there is plenty of vampire tourism you can participate in to chase down the fictional character. If you don't want anything to do with vampires, though, there are still plenty of options for you, as Transylvania is an absolutely beautiful region with plenty of charm! Read below for some of our top picks of places to visit within Transylvania!
Bran Castle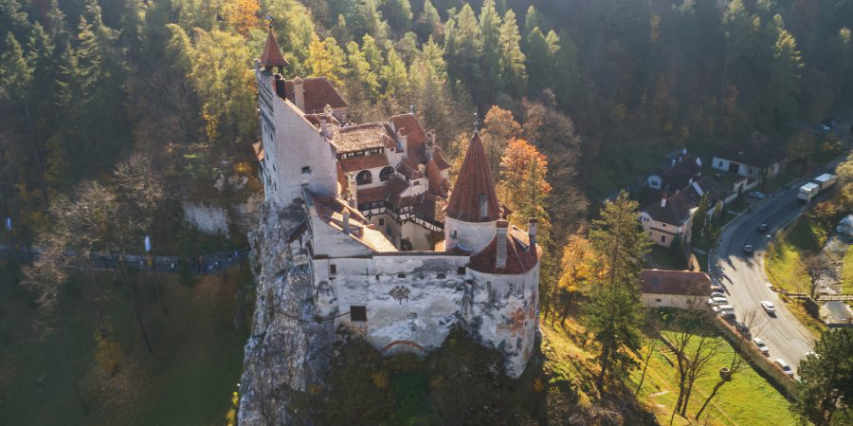 Of course we have to start off with the classic! Bran Castle is also known as "Dracula's Castle" and whether or not you care about Dracula at all, this castle is so picturesque and beautiful, it is a must-see in Transylvania! And although no one named Dracula actually lived in this castle, this is the closest castle to the description in Bram Stoker's novel, Dracula. Although Stoker had never been to Romania himself, Bran Castle in Transylvania pretty much perfectly fits the bill for Dracula's castle. It is perched at the top of an ominous hill, it is large and majestic, and it dates all the way back to the 1300s. Some people believe that the character Dracula is based off the real-life Romanian Ruler, Vlad the Impaler. Vlad did visit this castle during his lifetime, but he did not actually live here. Because of its age and perch overlooking the valleys, this is the ideal beautiful yet isolated and weathered castle to visit.
The Village Museum
Also known as the Astra Museum of Folk Civilization. This is a traditional open-air folk museum and one of the biggest in all of Europe. There a many traditional village houses that you can walk inside. In this museum, you really get a sense of what it was like to live in Romania before it was modernized. It allows you to escape the hustle and bustle of the big city and gives you a sense of serenity. One piece of advice though is to not visit on a Monday. On Mondays, the price is the same as every other day, but most of the homes in the museum are closed, so you won't get the full experience if you go on a Monday.
Biertan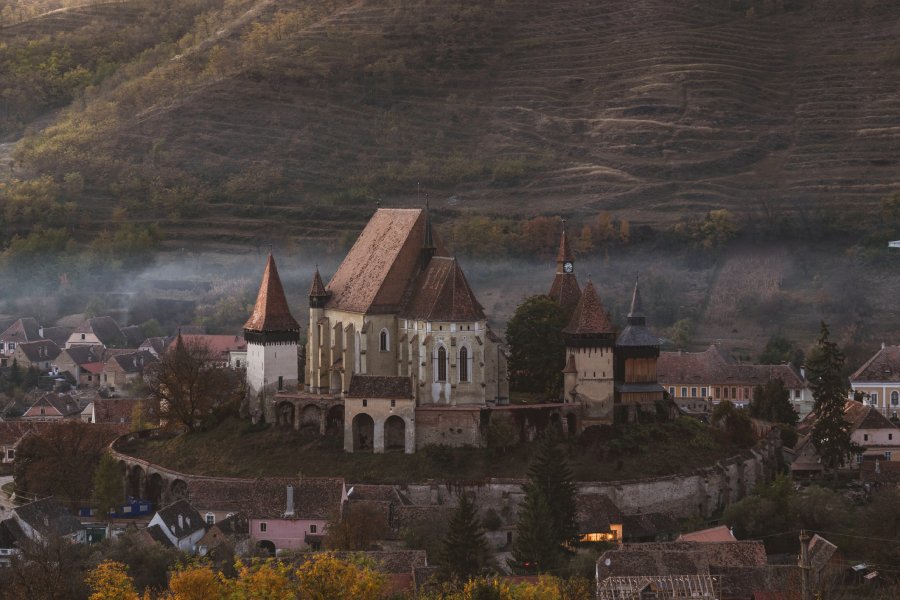 Biertan is a UNESCO World Heritage Site and is so impressive that some people make the trip to Romania just to visit this fortified church. Construction started in the 1400s and it is one of the largest fortified churches in all of Transylvania. It was built by the Saxons and by the time the Saxons had built this church, they had already had centuries of experience building fortified edifices. This church is the most prominent structure in the small village where it stands, making it impossible to visit without getting a good glimpse of the building. With three walls and eight towers, this is an impressive and beautiful structure to behold!
Copsa Mare
Copsa Mare is a striking but traditional village tucked away in the lush valley of Tarnavelor Plateau. You can actually walk to here from the Biertan fortified church, so it is a good idea to do both on the same day! The first known inhabitants of Copsa Mare were the Saxons, who wrote about the place in 1238, which is the earliest documentation that we have. Copsa Mare also has its own fortified church that was built in the 1500s. It is beautiful (though not quite as impressive as Biertan). If you want to stay overnight, you have the option of staying in the Copsa Mare Guest Houses, which are real houses from the Saxons that have been restored with the greatest architectural respect possible so that it really feels like you are living back in time!
Malancrav
This is another small village right near Copsa Mare. Some people know this village as "the place where time stood still." The houses are old but beautiful, and this village has the largest Saxon population in all of Transylvania. This village is in the mountains, which are lush and green, and you can see endless rolling hills off in the distance. The village is over 700 years old – and also has a fortified church of its own – and has strong traditions that are still celebrated today. While you are here, you can visit the Apafi Mansion, try the local foods (because of the strong Saxon influence, the food is unique in this village), and you can ride along the bike paths.
The Transfagarasan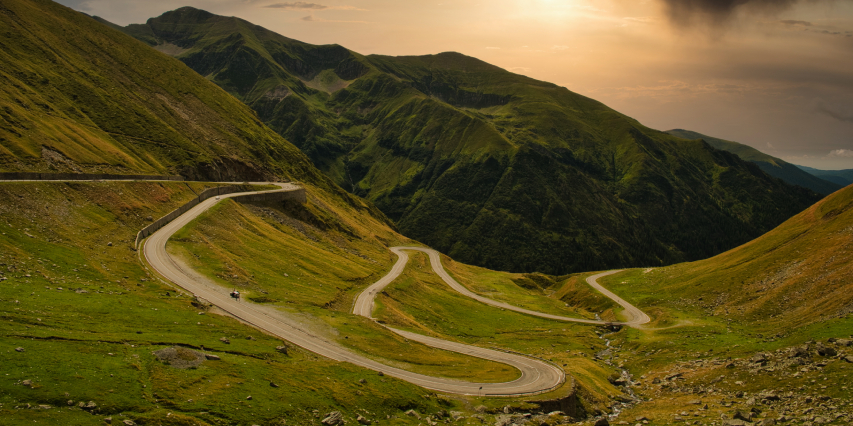 This is the "world's best driving road." It is quite a site to see: the road is complete with tunnels, bridges and viaducts (which is similar to aqueducts if you are familiar with those). The road closes at the end of October though, so make sure that you plan to go before then. This winding road is absolutely beautiful and will create a great shot!
The Merry Cemetery in Maramures County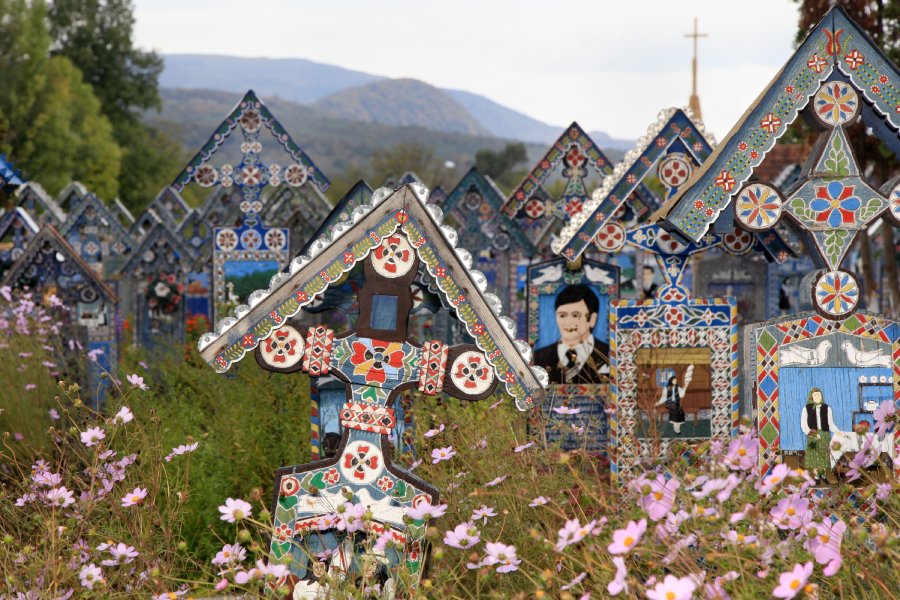 Located in northern Romania in the Maramures region, the Merry Cemetery is a cemetery that is, well, merry. All the tombstones are decorated colorfully and have poetry or other writing describing and celebrating the life of each person buried there. It is believed that Dacian culture viewed death as a joyful moment, as the person passes from this life of suffering to one filled with peace and happiness.
Transylvania is a beautiful and historical region of Romania that has a lot to offer, so we would definitely recommend visiting the region and trying to see as much as you can!