If you pay attention when walking through Bucharest, there is actually a great amount of architectural diversity in this city. Bucharest is a city with a lot of history and different eras of construction, and you can really see this in the architecture.
You can see the 19th century architrecture with pleasing colors and many curves, and you can see the harsh lines of Stalinist architecture, which was put up during Romania's communist regime. If you are interested in checking out Bucharest's architecture, read below for some of the buildings that you must visit!
Stavropoleos Monastery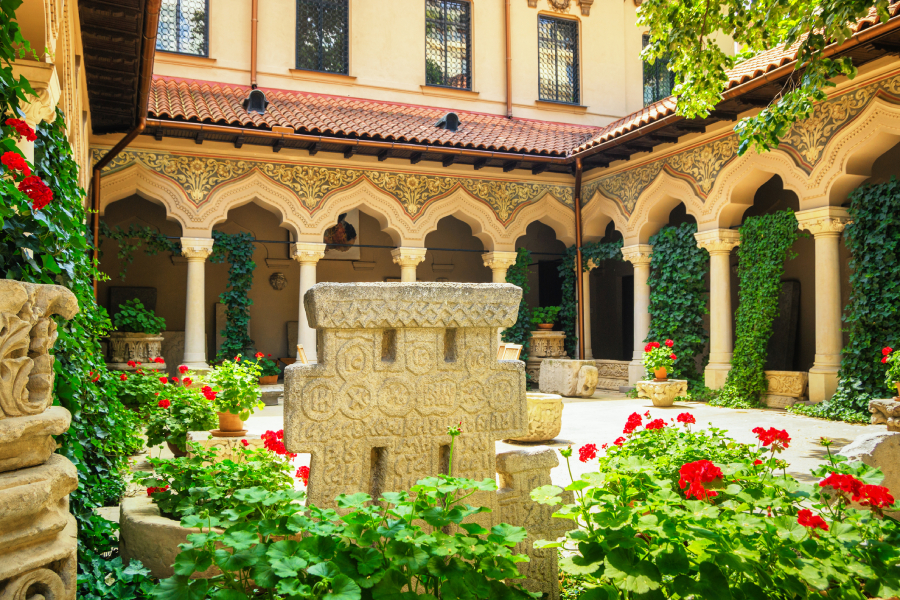 This is also known as the Stavropoleos Church, this is an Eastern Orthodox Monastery for nuns in the middle of Bucharest. The church was originally built in 1724, before Romania was a country. It was built in Brancovanesc style, also known as Wallachian Renaissance, or Romanian Renaissance style. It is a small but absolutely beautiful church!
The Macca-Vilacrosse Passage (Pasajul Macca-Vilacrosse)
This is a fork-shaped, yellow glass covered street in the middle of Bucharest. It is arcaded, meaning it is lined with a succession of contiguous arches, columns, and piers. Walking into this structure, it really feels like you are both indoors and outdoors.
The yellow glass allows the light to shine in with a yellow hue, making this walkway appear a lot warmer in color. There are shops and inns, and this is a great place to find refuge in if it is raining or if there is bad weather outside!
CEC Palace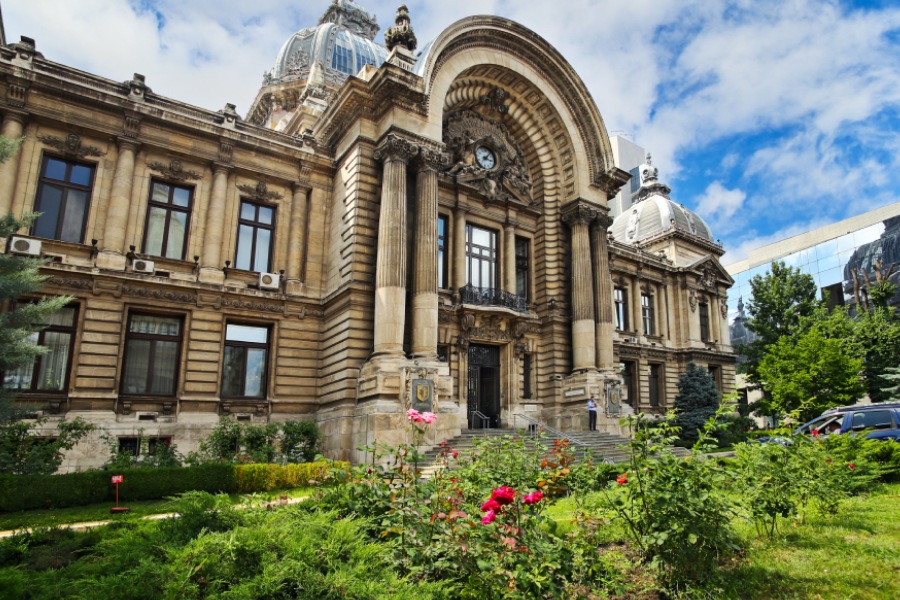 This Palace was built in 1900 and houses the headquarters of Romania's oldest bank. It was designed by the architect Paul Gottereau, who was educated in Paris, leaving this building looks rather Western European. Still, it was designed somewhat eclectically, with glass and metal domes and with gables and coats of arms.
Revolution Square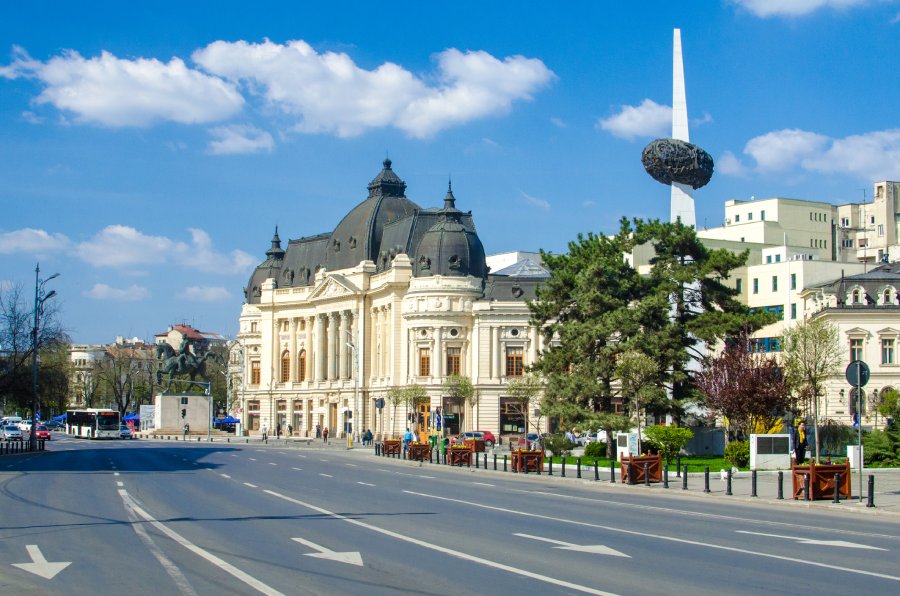 Revolution Square by itself holds so much of Bucharest's history. Right before you enter the square, you will see the 300-year-old Kretzulescu Church and the National Museum of Art of Romania, which was the former Royal Palace and home of the Romanian monarchs.
The Revolution Square also houses the Romanian Athenaeum, the Athénée Palace Hotel, the University of Bucharest Library and the Memorial of Rebirth. If you are just passing through Bucharest or do not have a lot of time to spend in the city, we would definitely recommend going through Revolution Square because there is so much to see in a relatively small space!
The Romanian Athenaeum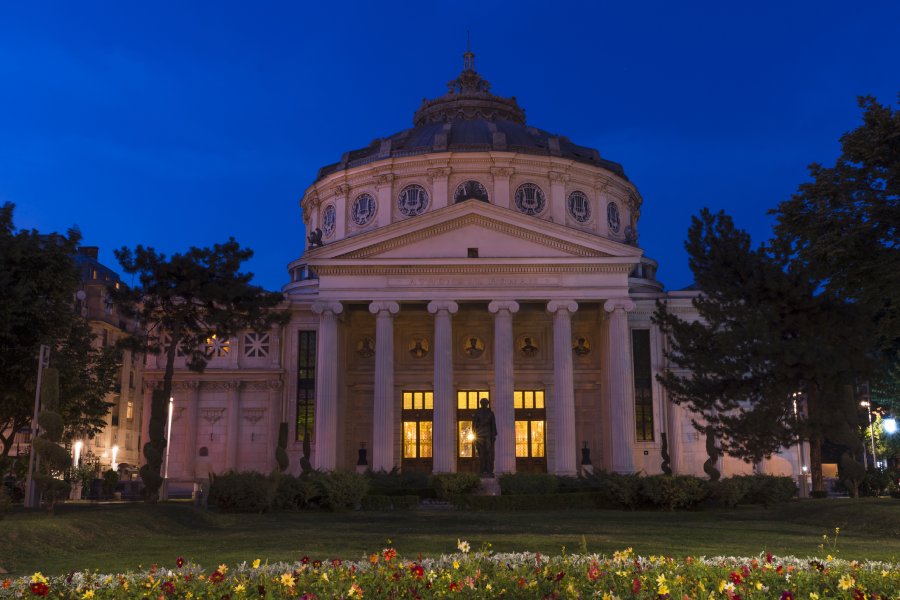 This building is actually in Revolution Square, and it is probably the coolest building on the block. The Romanian Athenaeum is a concert hall that opened all the way back in 1888. This goes into the not-so-free realm of things, but if you are able to see a music show in this building, we would definitely recommend going – this is a bucket list worthy item!
The Romanian Athenaeum also hosts the George Enescu International Music Festival, which is an annual festival that honors the Romanian classical music composer, George Enescu.
George Enescu Museum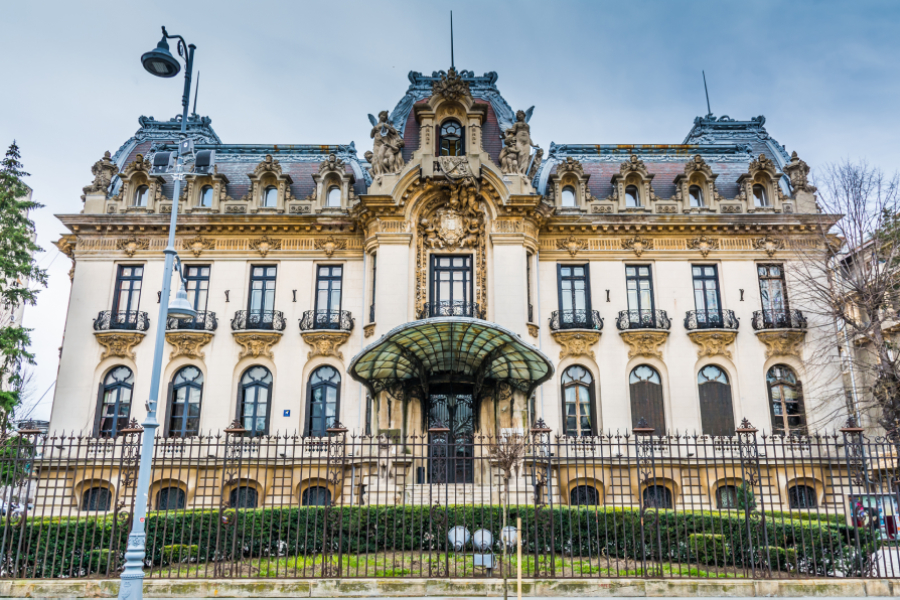 Speaking of George Enescu, the next thing that should be on your list is the George Enescu Museum. This museum is one of the nicest Art Nouveau buildings in all of Bucharest, complete with a beautiful façade and an oyster-shaped glass entrance. It was designed by another Romanian architect trained in Paris, Ion D. Berindei.
The building is actually Enescu's old residence, so you will actually be walking into his house. The museum has mixed reviews, but if you are an architecture buff, it would definitely be worth it to peek inside this magnificent building – and head into Enescu's ornate piano room!
The Palace of the Parliament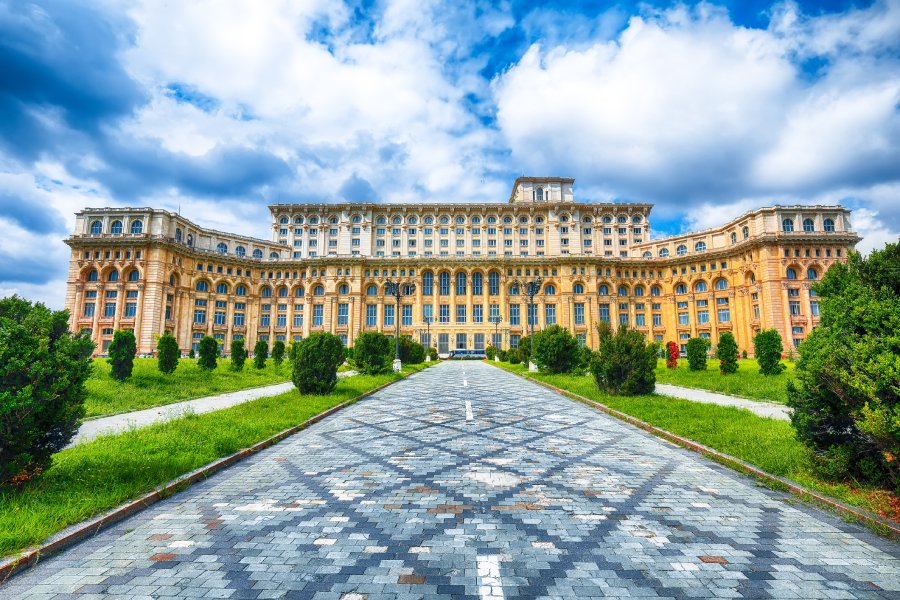 Although the list of beautiful, large, and amazing buildings that there are in this world is endless, the list of the biggest buildings in the world are short. And if you are looking at the list of heavy buildings, there is one that tops all else: The Palace of the Parliament.
This has been verified by the Guinness Book of World Records to be the heaviest building in the world. And weighing in at 9.0356 x 109 pounds, it is unlikely that there will be a heavier building ever, or at least not anytime soon! Today the Palace of the Parliament is an administrative building. It is the second largest administrative building, second on to the Pentagon.
You can enter only through a guided tour, and it is a good idea to book tickets ahead of time. You will also need to bring your passport to be able to tour the building. The tour will last about 45 minutes.
Caru' cu bere
This one is located right by the Stavropoleos Monastery. Caru' cu bere literally means "the beer wagon" and is one of the oldest restaurants in Bucharest. It first opened its doors in 1899 and was opened in a Gothic revival building originally designed by Austrian architect Siegfried Kofczinsky.
It was built in Art Nouveau style in the interior and is decorated with Gothic arches and painting from artists Wilhelm and Friedrich Hugo. It also has stained glass and sculpted wood panels. Even if you are not that interested in architecture, this is a great restaurant to enjoy classic Romanian dishes and a nice pint of beer!
The Arch of Triumph (Arcul de Triumf)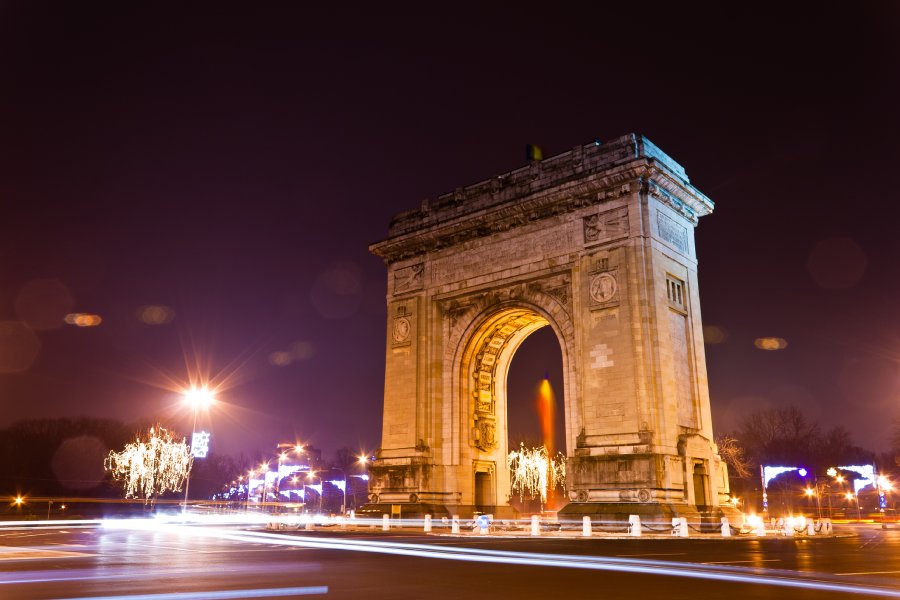 Bucharest's nickname is Little Paris and one of the many reasons for this is the Arch of Triumph! It was built in 1936 to commemorate Romania's participation in World War I. It is a copy of the Arc de Triomphe de l'Étoile in Paris. It is a height of 27 meters (which is just over half the height of the Paris version) and made out of marble from Ruschita.
There you have it, nine of the best spots to see Bucharest's vibrant architecture! Whether you choose to enter these buildings or just admire them from the outside, these spots should all make your travel list if you are interested in experiencing the city's architectural scene.