A convenient way to travel on a budget is to establish a "home base" while you are abroad and take a bunch of day trips from there. This means staying at a hotel or a hostel for a week, hopefully getting a discount for staying that long, and then using the days to travel to different nearby sites and cities.
Doing this can save money, but it is also just super convenient. If you don't use the "home base" method, then you have to bring all your luggage to each city you travel to, which can be a real pain if you are taking buses, trains, and subways.
We highly recommend establishing Bucharest as your "home base" on your next trip to Romania, and then taking a bunch of day trips from there. This is also great if you enjoy a colorful nightlife, because when you head back to Bucharest in the evenings, there are still plenty of activities to choose from. Read below for some of our suggested day trips that you can take from Bucharest.
1. Peles Castle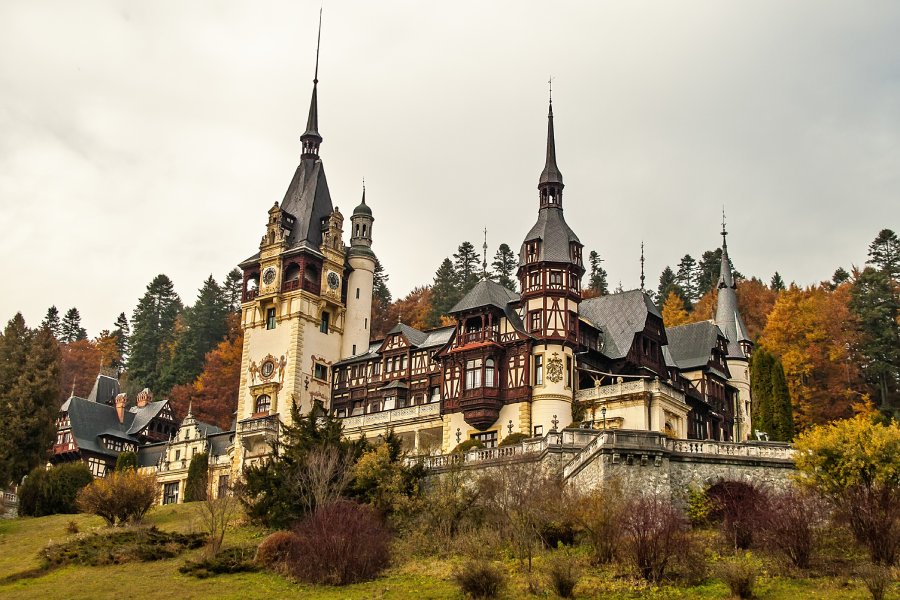 This is one of the most famous and well-known castles of Romania. It is located in the Carpathian Mountains, on a route linking Transylvania to Wallachia. This castle was constructed from 1873-1914 for the first king of Romania: King Carol I.
King Carol I loved the mountains and when he came across this mountain range, he knew that this would be where he would want to spend the rest of his life. You will have to see it for yourself – the castle was beautifully built and the view of the mountains is absolutely magnificent!
To drive to Peles Castle from Bucharest is just a two-hour drive. If you do not have a car, there are also public buses and private tours that you can book.
2. Bran Castle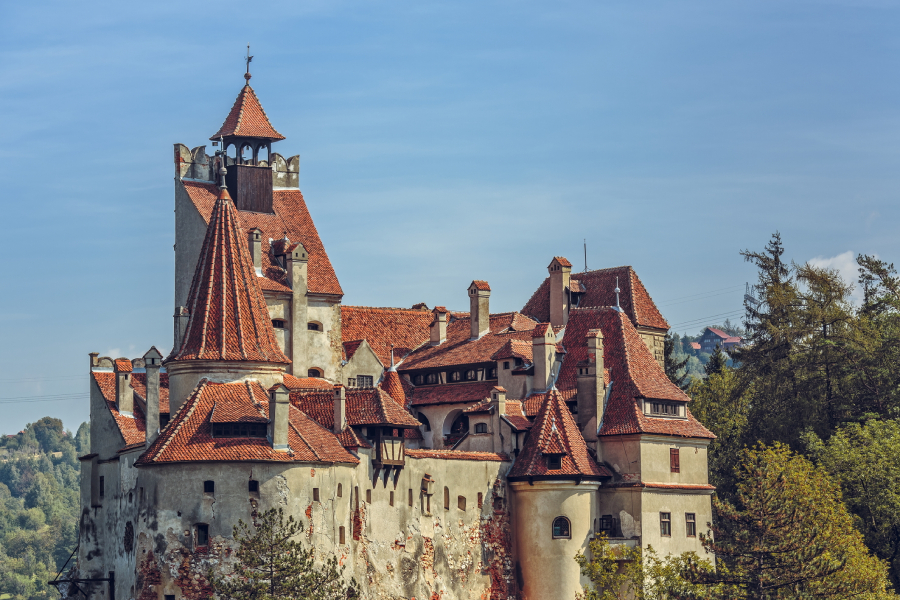 Bram Stoker, the author of Dracula, was an Irishman who had never stepped foot in Romania. Nonetheless, he placed his characters in this beautiful country and in his novel, the vampire Dracula lives in an impressive, huge castle that sits at the edge of a cliff, overlooking a river gorge. Although Stoker did not necessarily have Bran Castle in mind, this castle perfectly fits this description.
Some people believe that the novel Dracula was actually based off a real-life Romanian ruler: Vlad III Dracula. He is known by a couple different names: Vlad the Impaler and also Vlad Țepeș. Vlad ruled in present-day Romania, over a territory called Wallachia.
Though he was not a vampire, he did have a strong taste for blood and is believed to have killed upwards of 100,000 people. He earned the nickname "the Impaler" because of multiple events where he had his enemies stabbed, then impaled, left to squirm and die. Vlad, however, had passed through this castle during his lifetime, but he never lived in Bran Castle. Vlad lived in Poenari Castle, which is a beautiful site to visit, but it is currently closed for tourists.
Bran Castle is only an hour further past Peles Castle, so we would highly recommend visiting both castles on the same day if you are staying in Bucharest. There are various tours that you can book for visiting both castles on the same day, such as this one offered through Get Your Guide.
3. The Black Sea at Constanta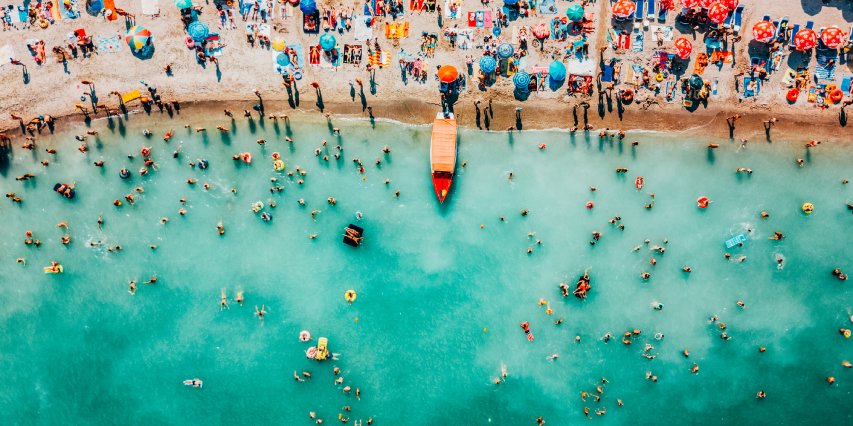 Constanta is a beautiful Romanian city to visit as it has so much to offer. You can check out the gorgeous Black Sea and even head to the beach. The Constanta Casino is another really popular spot. It's not actually a casino, or rather it is a defunct casino, meaning it is no longer in use as a casino. This building is a beautiful work of architecture.
It was commissioned by the King in the early 1900s and was used as a casino until World War II, when it was temporarily used as a hospital. When Nicolae Ceausescu came to power, the building was used as a restaurant, but the maintenance costs were so high that the building shut its doors in 1990.
The building hasn't seen any repairs since 1988, and the building is closed to the public to prevent injury and protect from thieves – but you can still view it from the outside! Constanta has so much more to offer, making it a fun city to explore.
If you are in Bucharest, driving out to Constanta will take about three and a half hours. Finding reliable public transportation can be hard for such a large distance if you are trying to make this only a day trip, so we would highly recommend looking into bus tours so you can hit all the right spots and make the most of your day trip!
4. Sibiu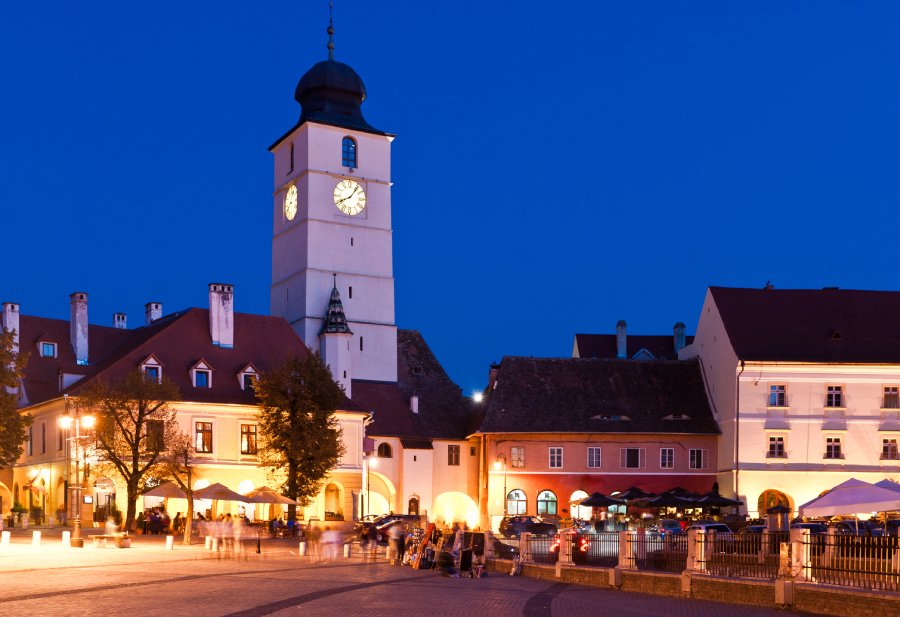 Last, but most certainly not least, is the amazing city of Sibiu. Sibiu is an absolutely stunning Romanian city with plenty of medieval history. In fact, in 2007, Sibiu was named the European Capital of Culture of the year. The houses here are a beautiful array of colors and the streets are lined with cobblestones.
One thing that is really cool about Sibiu is that you can visit any time of year and have a great time! There is an ice hotel (called Balea) that is built and opened every winter, and there is a huge jazz festival every summer. Aside from that, there are plenty of museum and historic churches, and the city just has a beautiful old European charm to it.
It is located in central Romania, about a 4-hour drive from Bucharest. Because this is a bit of a longer drive for a day trip, we would again recommend taking a bus tour out to Sibiu. This way you can sleep on bus if you are tired and you won't have to worry about any of the logistics or getting lost, because your tour guides will be there to answer all your questions!