If you are traveling to Romania for the first time, there are two wonderful things to know about traveling from city to city in this country: it is cheap and there are many options. Many Romanians don't own cars and rely on public transportation for their daily commutes. This means that it is relatively easy for tourists to get around the country by the same means of transportation.
However, if you are a native English speaker who is trying to get around Romania, there are a couple things you should note. First, public transportation in Romania is not entirely like how it is in many Western countries. Though the transportation network is robust, it is not always on time and is sometimes slow. The country doesn't have high-speed trains, so you might feel like it takes a long time to get from city to city. Another thing to note is that English is not very widely spoken in Romania, especially not in some of the smaller towns. You won't always be able to walk into a train station or bus stop and expect people to help you in English. Though there are many Romanians who do speak English, you should not take it as a given that you will always be able to get help in English. If you and your travel buddies only speak English, you should make sure you know your transportation before you head out the door for the day and have a backup plan in case things don't work out.
That being said, English speakers find their way around Romania all the time and, so long as you are patient, you should have no problem getting around the country too!
Another thing to note is that Romania is divided by the Carpathian Mountains. This mountain range divides the country into three different areas, and it takes a bit longer if you are traveling from one area to another, since you have to cross the mountains. The three areas are called Transylvania, Wallachia, and Moldova (not to be confused with the neighboring country Moldova).
Air Travel
Depending on how far you plan on traveling within the country and how much time you have, air travel is a very viable option. Flying from city to city is not that expensive but will save you a ton of time. If you are time-restricted (really, who isn't?) then this will probably be the best option for you.
You might be asking yourself, is flying really worth it? Won't flying be fairly expensive? And it takes time to get to and from the airport, right? Well, let's take a look at one popular travel route: between Cluj-Napoca and Bucharest. The distance between the cities is 450 km. If you rented a car, it would take between 6-7 hours to drive. If you took a train, is could take between 8-10 hours. Flying only takes 40 minutes! Depending on the day you travel, you can find tickets as low as $27. It seems like a no-brainer to fly, especially if you are pressed for time.
There are three cheap airlines that travel within Romania: WizzAir, RyanAir, and BlueAir. Check between the three of these to figure out which options are the cheapest for your desired route. You can also check Google Flights for the best fares.
Trains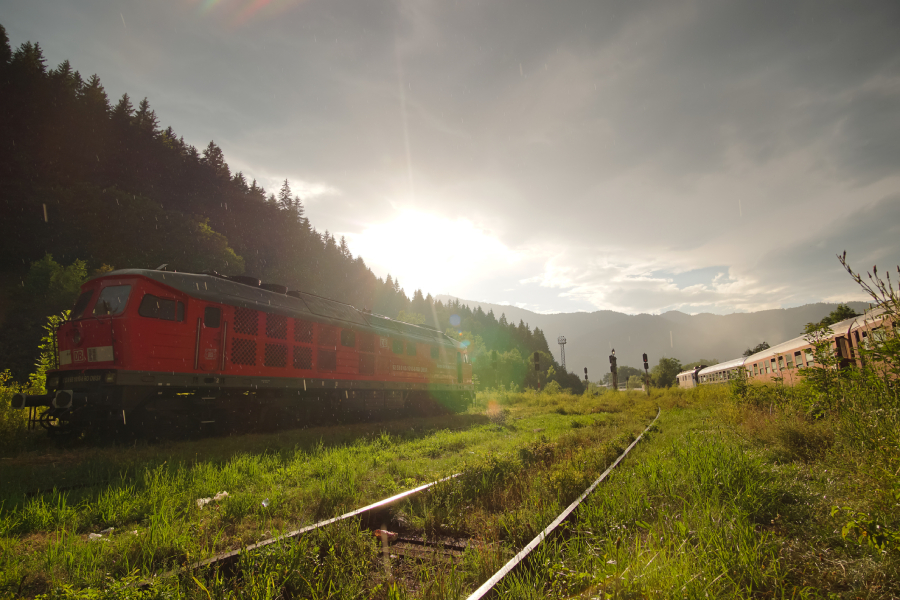 Trains are relatively cheap and mostly reliable, though sometimes run late or have cancelations. One of the fun things about riding a train is being able to have a scenic route. Another great thing about the trains is that they connect most of the country and basically all of the tourist destinations.
There are, however, plenty of downsides to the trains. First off is that they are old – most are from the 60s-80s. Another downside is that the onboard service is not always great. Sometimes the service is ok, but it is never extraordinary.
If you can get over the inconvenient downsides, then riding a train to get to your destination is great. Use Google Maps to figure out your route, then buy your ticket right at the train station about 20-30 minutes before departure. The trains are also relatively safe, even if you are riding overnight. Just make sure to keep an eye on your things from the occasional pick-pocketer or petty thief, but just normal caution should suffice – the trains are relatively safe.
Buses
Bucharest has an underground metro, but is the only city in Romania that has that type of transportation. For other cities in Romania, you will likely want to take a bus. You will be able to buy bus or tram tickets at street kiosks marked "bilete" or "casă de bilete". You can check out this website for some of the bus routes throughout the country. Again, Google Maps will help you greatly when figuring out bus routes. Just type where you want to go, and select "public transportation". Google Maps will show you the best bus route for you.
Taxis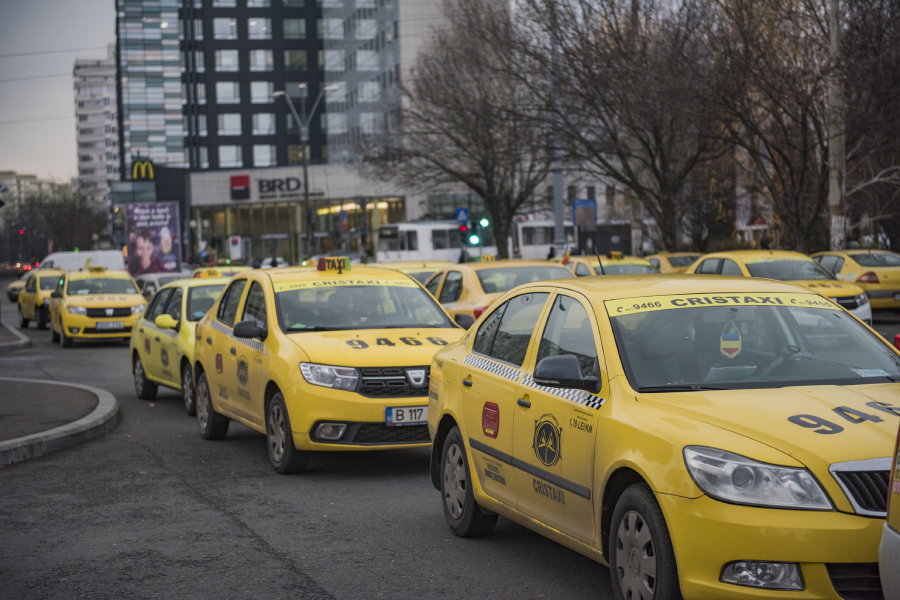 Taxis are generally safe and relatively cheap in Romania. Drivers are required by law to post on their doors their rates, which tend to be anywhere from 1.69 to 1.99 lei, or roughly $0.45 per kilometer.
Although you can hail a cab, it is safer to call a cab from a reputable company. If you are looking for cabs in Bucharest, some of the reliable companies are Cobalcescu, CrisTaxi, and Meridian.
You can also order a ride through a rideshare app such as Uber or Taxify. However, these apps don't work everywhere, and there are not always taxis readily available – it just depends on the day and how many drivers are available. Likely, you will have better luck using one of the known taxi companies.
You can also rife a Maxi Taxi. This is a private company that operates small bus-like vehicles. You can use a Maxi Taxi within a city, but not to get out of the city. Maxi Taxis are cheaper than a private taxi, but more expensive than the bus. You will pay your fair once you hop onboard. The schedules are posted on the window of the Maxi Taxi, so just check it before you hop on and let the driver know where you are heading.
There you have it! Though getting around Romania takes a little bit of research to figure out which options are best for you, there are many options available that are cheap and convenient!