Gugu Peak is located in the Godeanu mountains in western Romania. Gugu Peak is known as "the Mountain that Disappears" because it seems like it just fades into the sky during certain hours of the day. The Peak is close to Retezat National Park and sits at 2,291 meters in altitude. The people who live in these mountains are known as Gugulani and are famous for having very long lifespans. Rumor has it that when the mountain disappears, spooky and supernatural events take place.
The origins of Gugu Peak
Let's go back to the origins of this Peak. Some believe that Gugu Peak was the sacred mountain of the Dacian God Zamolxe, making this a holy spot for the Dacians (who were the ancient inhabitants of present-day Romania). It was thought that Zamolxe would watch over his kingdom from this Peak because it is one of the highest in Romania.
Others believe that Decebalus, the last king of Dacia and one of the Dacian's most important rulers, hid his treasure somewhere in Gugu Peak. Decebalus believed that if he hid his treasure in this mountain, the High Priest would protect it from the wrath of time. If you visit Gugu Peak, you are almost certain to run into a treasure hunter yourself!
Even though the Godeanu mountain range is in a rather remote area of Romania, tourists make the trek out there every year. You can camp at Gugu Peak, but those that have have experienced odd symptoms. Reports of shortness of breath, insomnia, and other nighttime sleep troubles are not uncommon.
Paranormal activity at Gugu Peak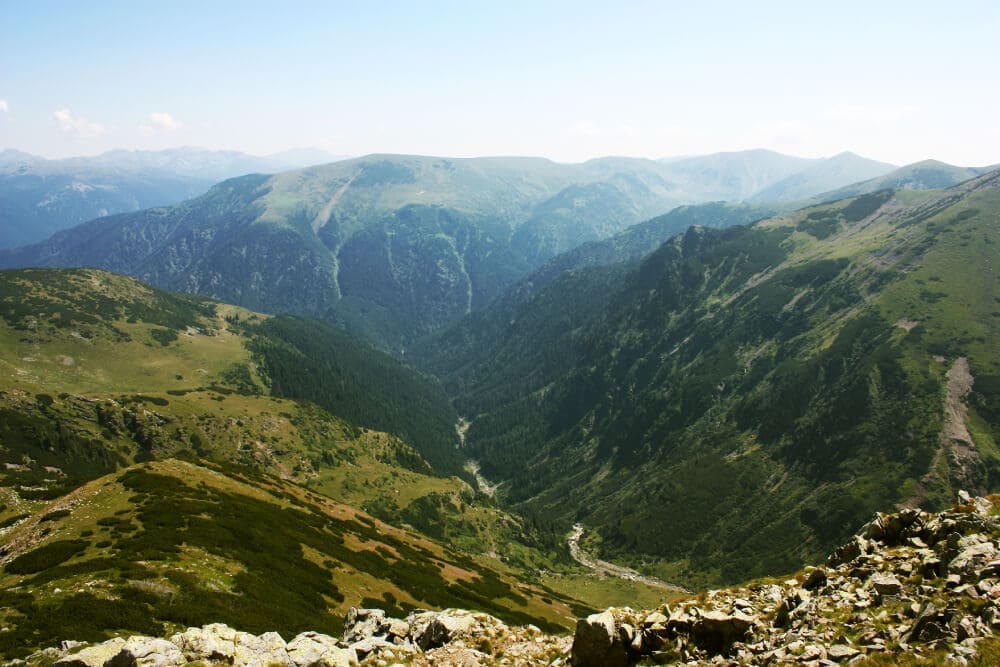 Paranormal activity experts judge Gugu Peak to be highly charged with energy. In the 1990s, a group of researchers went to the mountain to observe its disappearance and the strange bright lights that had been reported. They did witness the disappearance and a burst of light from the rock, but they camped out at the mountain and none of them were able to sleep.
Another group of people went to the mountain to investigate the cause of an airplane crash and disappearance. It is believed that an airplane crashed in the Godeanu mountain range, but it disappeared without a trace. When this group of researchers went to investigate the disappearance, they also experienced various symptoms. They claim to have felt sensation of choking and of being watched. They also saw unexplainable bright flashes of light.
The weirdest part of this research excursion was that they all brought their film cameras to capture images of the mountain range, in hopes of anything that might resemble a clue as to the plane crash. However, when they went to develop their film, all the footage came out blank! Not a single one of them was able to see any of their photos upon returning home.
If you are interested in learning a little more about Gugu Peak, Victor Kernbach mentions the mountain is his book on Astral myths (though it is written in Romanian, you might be able to find an English version of the book). Another book (in English!) is the novel The Castle of the Carpathians, written by Jules Verne.
Though Verne never visited Gugu Peak himself, the novel takes place in the mountains and Verne claims to have been inspired by a "celestial force" to write the novel and have it take place in Gugu Peak.
Visit Gugu Peak
There actually is not that much known about the mysteries and the supernatural forces of Gugu Peak. You can watch videos on Youtube of the disappearance of the mountain, or you can visit Gugu Peak yourself!
To get to Gugu Peak, you need to enter the Retezat National Park. The entrance fee is 10 lei per person and 7 lei per car. This is a one-time fee, so once you enter the park and pay, you are all set! You might be able to find a tour bus that will take you here, but by far the easiest way is if you drive a car yourself.
Note that a lot of the roads in this park are unpaved, so if you plan on driving make sure you are using a car that can handle dirt roads. Most cars will fit the bill, but an off-road vehicle is definitely ideal.
Once you enter the Retezat National Park and have passed the entrance gate, continue straight on the dirt road that follows the edge of the lake. You simply drive straight ahead until you reach a fork in the road. At this point, take a right turn. Continue driving for about another 5 kilometers.
While driving, the river should still be in viewing distance on your right. You will keep on driving until you reach a bridge made out of large concrete tubes – this is a large bridge and there are no turns, so you are sure to see it! About 100 meters before the bridge, there is a small parking lot where you can park and start walking.
Pass over the concrete tube bridge by foot. Turn left onto the small footpath by the river. The trails have no official markings, but there is some pink tape you can follow to get to Gugu Peak. After about 2 kilometers, the footpath turns right and into the forest. The path through the forest is steep, but once you are through, you will be in the refuge.
You can camp here or keep on going. You continue uphill and pass by the sheep herder's lodge. Once you reach this, turn left and you will see a flat open field. Pass through and go uphill again, turning slightly left. Continue uphill and you will soon see Gugu Peak in the distance!
Once you are at this point, there are no more distinct landmarks before the Peak, but you should have no problem finding it as it is the highest one in view. Luckily, there is also cell reception up here, so if you get lost or confused, you can always look at a map on your phone. Have fun hiking!