Alright, you caught us: this title is just click-bait. Kind of. If you thought you could see the vampire Dracula's castle in Transylvania, Romania, then we got you, because the vampire Dracula is pure fiction. The vampire is a character from Irish author Bram Stoker's novel by the same name. The vampire is not real and is not based off any real-life person. In fact, Bram Stoker had never even been to Romania. Nevertheless, you can visit what is known as "Dracula's" Castle in Romania. But whose castle are you really visiting, if the vampire Dracula is just a made-up character?
If you want to visit "Dracula's Castle" you will actually be going to Bran Castle. Why is Bran Castle known as Dracula's Castle? Well, in Bram Stoker's novel, Dracula does live in a castle. And not just any castle, but an impressive, huge castle that sits at the edge of a cliff, overlooking a river gorge. This fits the Bran Castle description.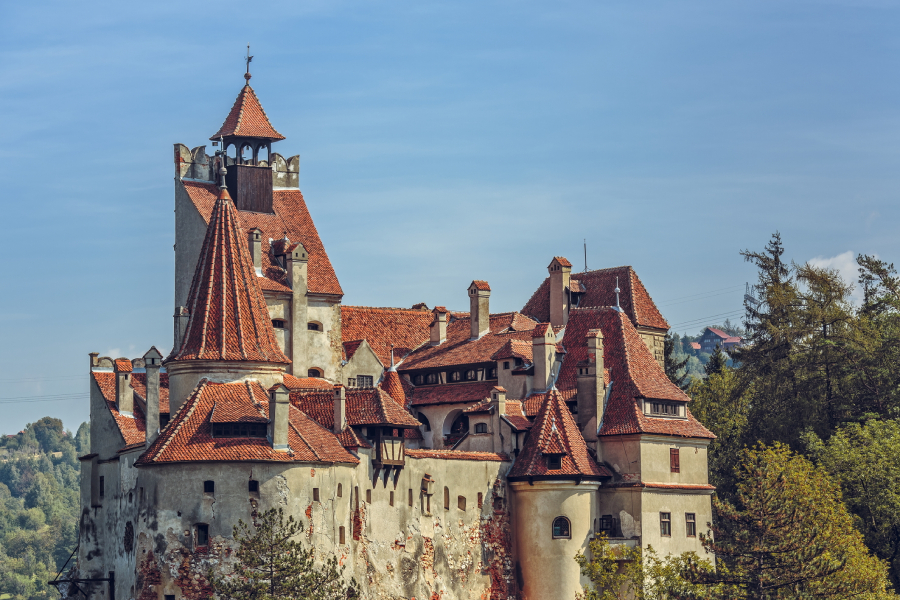 Moreover, some people believe that the novel Dracula was actually based off a real-life Romanian ruler: Vlad III Dracula. He is known by a couple different names: Vlad the Impaler and also Vlad Țepeș. Vlad ruled in present-day Romania, over a territory called Wallachia. Though he was not a vampire, he did have a strong taste for blood and is believed to have killed upwards of 100,000 people. He earned the nickname "the Impaler" because of multiple events where he had his enemies stabbed, then impaled, left to squirm and die.
The Bran Castle dates all the way back to the 1300s, while Vlad ruled during the mid-1400s. It is believed that Vlad actually did visit the current Bran Castle. Apparently though, Vlad did not have a good relationship with the Lords of Bran. However, in 1462 Vlad was captured by the Hungarian army. Some believe that Vlad was imprisoned in Bran Castle for up to two months before being moved to a different location – but this cannot be confirmed.
Perhaps Bran Castle is also known as "Dracula's Castle" because the inhabitants of the area from the 15th-19th centuries believed in the "undead". They believed that spirits would appear to be normal people during the day but would awaken as spirits at night.
Really, there is no clear-cut connection between Vlad the Impaler and Dracula, and these two names have no obvious connection to Bran Castle. Yet, Bran Castle is known as Dracula's Castle. Likely, this was a way to market the castle and get tourists excited about visiting Bran. Bran is quite a beautiful castle, even without its connection to Dracula, but adding the Dracula element adds a bit of flair. More than that, Stoker had never been to Transylvania, yet he sets his novel in this region. Bran Castle is the only castle in the entire region that even remotely fits the description in Stoker's novel, so if tourists came looking for something that looked like Dracula's castle, this is the best match.
So, what's the story of Bran Castle?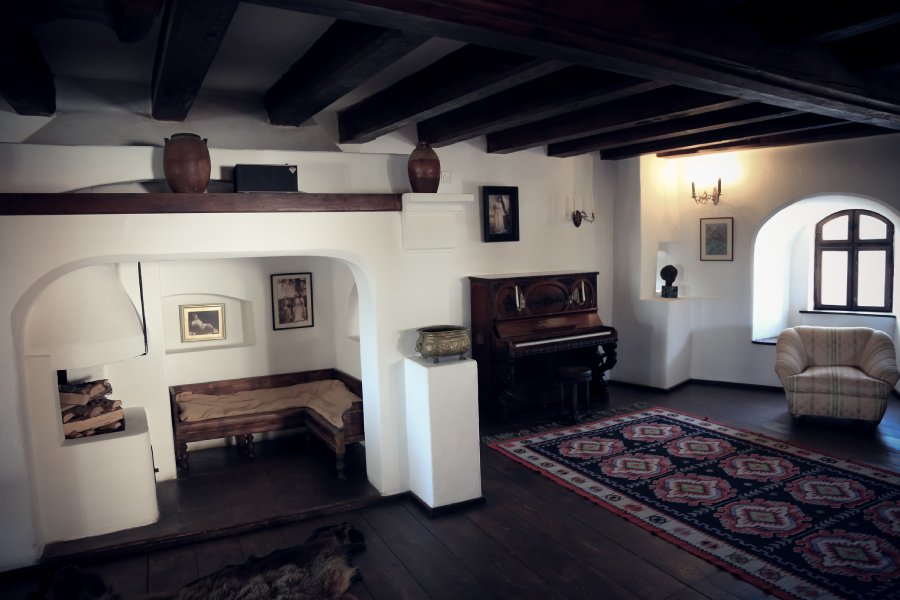 As we mentioned above, even if you are not interested in Dracula or don't know his story, Bran Castle is still definitely worth a visit! It is an impressive building, sitting at a mountain top 6,670 feet (2,033 meters) high. Originally, it was the wooden castle of Dietrichstein, built by the Teutonic Order. Their wooden castle was built in 1212, but was destroyed by the Mongols in 1242.
It is unknown when exactly the castle was rebuilt into what it is today, but the first documentation of Bran Castle occurred in 1377 when Louis I of Hungary gave the Saxons of Kronstadt (modern day Brasov) permission to build a castle out of stone. Soon after that, the surrounding area of Bran started to become inhabited and developed. From around 1438-1442, the Castle was used as a fortress against the Ottoman Empire. Shortly after, it was used as a customs post between Wallachia and Transylvania. It was during this time that Vlad the Impaler likely may have passed through the Castle. After that, Bran Castle belonged briefly to the Hungarians, but when one of the kings could no longer repay loans, the Castle was taken back over by the city of Brasov in 1533. From that time on through the mid-1700s, the castle was a strategic military post.
With the ending of World War I, the Treaty of Trianon was signed in 1920 and Transylvania was passed from Hungary to Romania. The Bran Castle then became the royal residence of the Kingdom of Romania. Queen Marie loved this home and did a lot to it to keep it up and renovate it. She left it for her daughter, Princess Ileana, who ran a hospital in it during World War II. In 1948, however, the communist regime took over the Castle. In 2005, Romania passed a restitution law and gave the Castle to Princess Ileana's heir, Dominic von Habsburg. The Castle was opened to the public in May 2009 and was the first private museum in Romania.
What is there to see at Bran Castle?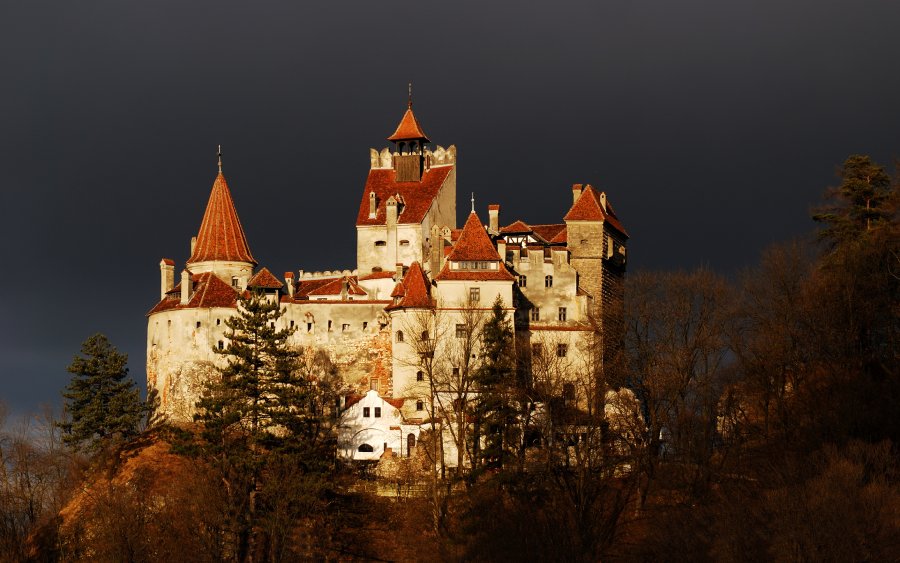 A lot has been done to Bran Castle to maintain it and keep it beautiful. Tourists can walk through the Castle on their own or join a guided tour. The outside of the castle is impressive, but the inside is less extravagant since Queen Marie and her family were living there less than a century ago. It is easy, then, to walk through the castle and imagine yourself living in it! Peak travel season is during the summer months, so if you are trying to avoid crowds, try visiting during the fall or spring.
Aside from the beautiful architecture, you can view the art and furniture collected by Queen Marie. Outside the Castle, there is an open-air museum of rural Romanian structures from the Bran region, such as cottages, barns, and water-driven machinery.
If you are staying in Brasov, the Castle is just a 45 minute drive away. From Bucharest, the Castle is 3.5 hours by car. You can also look into public transportation options or tour buses. Bran Castle is absolutely beautiful and if you add it to your travel itinerary, you will not be disappointed!